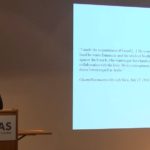 Prof. Lorenzo Kamel is associate professor of History at the University of Turin, scientific director of the New-Med Research Network, and director of the books and the research studies series published by the Istituto Affari Internazionali (IAI).
He held teaching and research positions in many universities in the US, the Middle East and Europe, including the Albert-Ludwigs-Universität Freiburg, where he served as a Marie Curie Experienced Researcher, and Harvard University, where he was a Postdoctoral Fellow for two years. He published ten books (5 authored) on Middle Eastern and Mediterranean affairs and was awarded with the 2010 "International Giuseppe Sciacca award", the Fritz Thyssen Grant, and the 2016 "Palestine Academic Book Award".
Selected Publications
•
The Middle East from Empire to Sealed Identities
, Edinburgh University Press, Edinburgh 2019.
ISBN: 1474448941
• Imperial Perceptions of Palestine: British Influence and Power in Late Ottoman Times, 1854-1923, I.B. Tauris, London and New York 2015. ISBN 1784531294
• Dalle Profezie all'Impero: L'espansione dell'Occidente nel Mediterraneo orientale, 1798-1878, Carocci, Roma 2015. ISBN 8843076302
• Whose land? Land tenure in late 19th and early 20th century Palestine, «British Journal of Middle Eastern Studies», 41(2), 2014, pp. 230–242.
• From Pluralization to Fragmentation: The Kurdish Case from an Historical Perspective,«Nuova Rivista Storica», 103(1), 2019, pp. 251-266.
• Arab Spring: A Decentring Research Agenda, Routledge, Londra 2016 (with D.Huber). ISBN 9781138999664
• Reshuffling the Middle East: a Historical and Political Perspective, «The International Spectator», 51(3), 2016, pp. 132–141.