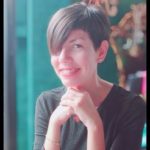 Dr. Maria Gianniou is research associate at Athens University of Economics and Business. She is also Empowerment & Leadership Coach, member of the ICF, founder of www.lead-from-within.org and co-founder of Greek NGO Women Act (www.women-act.org).
She obtained her PhD in International Relations from the Sorbonne University. She has worked at the European Parliament and as a scientific advisor to the Office of the Secretary General for European Affairs of the Hellenic Ministry for Foreign Affairs.
She was research fellow at the Euro-Mediterranean Observatory of the Hellenic Centre for European Studies and visiting research fellow at the University of the Peloponnese, Department of Political Science and International Relations.
Her work, focusing on Euro-Mediterranean relations, EU-UN relations and EU parliamentary diplomacy has been presented in various international conferences and published in several collective volumes and peer-reviewed journals. As an Empowerment & Leadership Coach she collaborates with corporate executives delivering customized workshops and coaching services. She speaks Greek, English, French, Italian, Spanish and Turkish.
Publications
Galariotis, I. and Gianniou, M. (2017): Evidence from the EU Presence at UNGA: In Pursuit of Effective Performance, in Blavoukos, S. and Bourantonis, D. (ed.): The EU in UN Politics, Springer.
Galariotis, I.; Gianniou, M.; Iakovidis, I. (2017): Factors and parameters of the EU performance in international organisations : a theoretical framework, EUI Working Paper, 2017/03
Stavridis, S. & Gianniou, M. (ed.) (2016): Parliamentary Diplomacy in the Mediterranean,  Mediterranean Quarterly: A Journal of Global Issues, Special Issue, Vol. 27, No. 4, pp. 2-148, December 2016 
Maria Gianniou & Ioannis Galariotis (2016): The European External Action Service: Towards a More Coherent EU Foreign Policy?, St Antony's International Review, Vol.12, No.1, pp. 104-119.
Stelios Stavridis, Maria Gianniou, Andrea Cofelice (2016): EU National Parliaments and the Recognition of Palestine, Comillas Journal of International Relations, No.6.
Spyros Blavoukos, Dimitris Bourantonis, Ioannis Galariotis & Maria Gianniou (2016): The European Union's visibility and coherence at the United Nations General Assembly, Global Affairs, DOI: 10.1080/23340460.2016.1132650
Stelios Stavridis & Maria Gianniou (2015): The Parliamentary Dimension of EU External Affairs during the 2014 Greek Presidency, ELIAMEP Working Paper, No66/2015
"The European Parliament and the Israeli-Palestinian conflict", in Stavridis S. & Irrera D. (ed.), The European Parliament and its International Relations, Routledge, 2015