EUMENIA's Webinar on "The geopolitical gamble in the East-Med: can the EU and Turkey find a way out of the crisis?" is now available on youtube!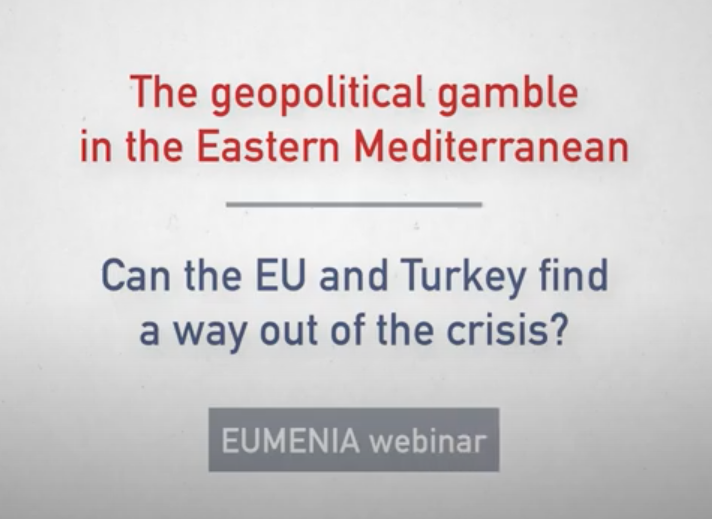 We are happy to share some exciting news! EUMENIA'S Webinar on "The geopolitical gamble in the East-Med: can the EU and Turkey find a way out of the crisis?" that took place on 26 November 2020, is now available on youtube!
This Webinar was organised by Dr Dimitris Bouris (University of Amsterdam) and was part of the ACES Practitioners Engagement Series, organised in collaboration with the Istituto Affari Internazionali (IAI) in Rome.

Speakers:
The Introductory remarks were made by Ms Angelina Eichhorst (European External Action Service). The Speakers of the Webinar included: Ms Laura Batalla Adam (EU-Turkey Forum), Dr Ioannis N. Grigoriadis (Bilkent University/ELIAMEP), Prof Meltem Müftüler-Baç (Sabanci University). The event was chaired by Dr Beste İşleyen (University of Amsterdam– UvA). Discussant: Dr Luca Franza (Istituto Affari Internazionali-IAI).
About the Webinar:
EU-Turkey relations have further deteriorated since the accession process has been frozen. The latest and most acute crisis is now playing out in the Eastern Mediterranean where the Greek-Turkish maritime borders dispute has become intertwined with other conflicts in the area, further complicated by even larger geopolitical confrontations.
In this complex environment, how can EU-Turkey relations be put on a more constructive footing again?
The Practitioner Engagement Series:
In November and December 2020, Dr Dimitris Bouris (UvA Department of Political Science) organised the 4th Practitioners Engagement Series in cooperation with the EUMENIA Jean Monnet network.
This year's series will engage with a number of topical issues and will involve several high-level officials, policy-makers, practitioners and academics. Topics will include the EU's Common Security and Defence Policy, the Permanent Structured Cooperation (PESCO), the EU's role in the unresolved conflicts over Nagorno-Karabakh, Abkhazia and South Ossetia as well as EU-Turkey relations and geopolitics in the East Mediterranean. (Source ACES)
Previous events of the  Practitioners Engagement Series can be found here.
Follow us for more updates, seminars and lectures on Facebook , Youtube and twitter @EUMENIA_JMN!
---