Online Lecture Series "Decolonising Europe" by Dr. Beste Isleyen and Dr. Tasniem Anwar, #1 (17 June- 15 July 2020)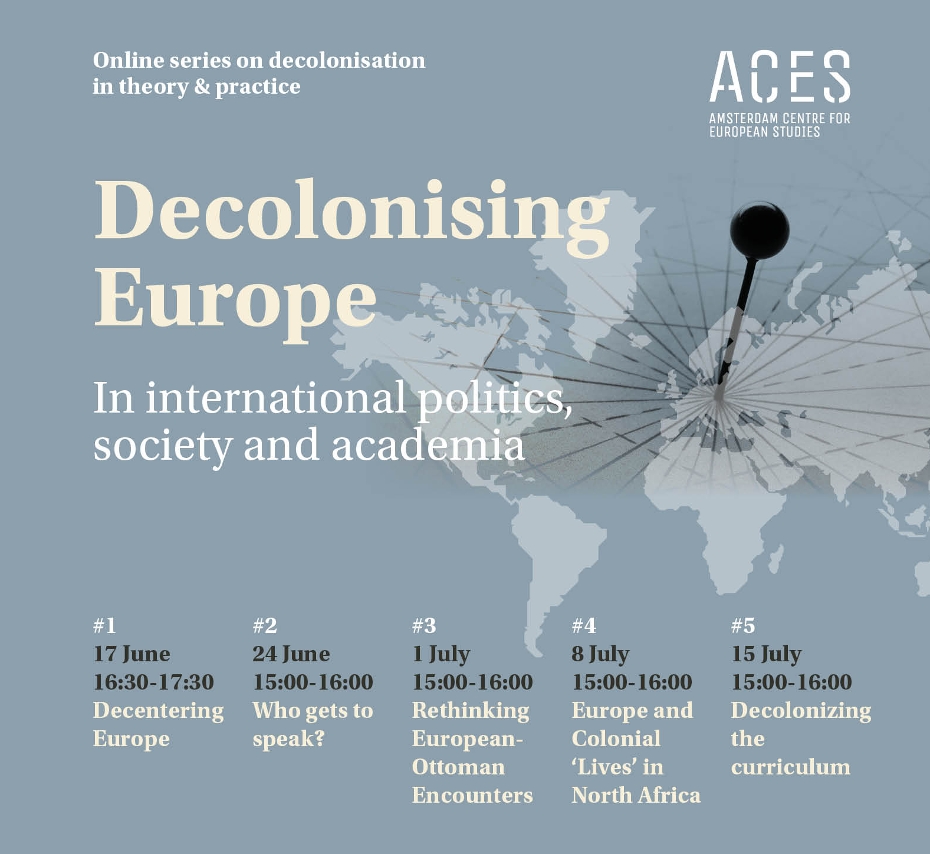 The Online Lecture Series were inaugurated with a lecture that explored the meaning, emergence and implications of "Eurocentrism" in world politics.
The first part of the series took place between 17 June and 15  July 2020 and it included four panels and one book launch, aiming at preparing the audience for the second part of the series which is set to follow on September 2020.
In detail, the first part of the Online Lecture Series included the following sessions (their recordings can be accessed directly):
1. ​"Decentering Europe​", 17 June 2020.
With Gurminder Bhambra (University of Sussex) and Darshan Vigneswaran (University of Amsterdam). Moderator: Beste İşleyen
2. ​"Who gets to speak?​" – 24 June 2020.
With Robbie Shilliam, Professor of International Relations (Johns Hopkins University) and Nivi Manchanda, Senior Lecturer in International Politics (Queen Mary University of London).
3. ​"Rethinking European-Ottoman Encounters​" – 1 July 2020.
With Senem Aydın-Düzgit, Professor of International Relations (Sabancı University) and Cemal Burak Tansel, Lecturer in International Politics (University of Sheffield).
4. ​"Europe and Colonial "Lives" in North Africa​" – 8 July 2020.
With Sara Salem, Assistant Professor (the London School of Economics), editor at the journals 'Sociological Review' and 'Historical Materialism'.
5. ​"Decolonising the curriculum​" – 15 July 2020.
With Rosalba Icaza, International Institute of Social Studies (ISS) (Erasmus University Rotterdam) and Michael Onyebuchi Eze, lecturer (University of Amsterdam).
More details on the program, the content of the lectures and the speakers are available at the website of the Amsterdam Centre for European Studies – ACES.
Follow us for more updates, seminars and lectures on Facebook , Youtube and twitter @EUMENIA_JMN!
---