EUMENIA Closing Conference, 16th-17th June, University of Amsterdam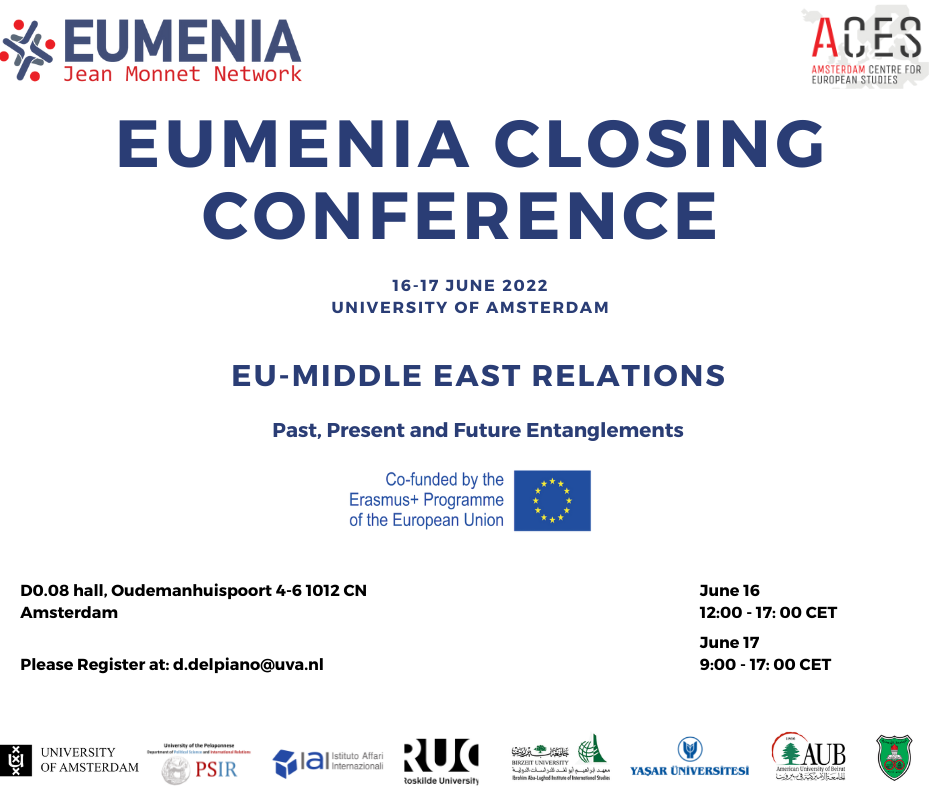 After 4 years, the Jean Monnet Network on EU-Middle East Relations, EUMENIA, is coming to an end this year.
To celebrate these four years of cooperation, exchanges and dissemination on the EU and the Middle East, our partners will all come together in Amsterdam on June 16-17 for our Closing Conference.
Come join us and our amazing guests to discuss past, present and future issues concerning these complex relations.
 The keynote address will be delivered by Ms Francesca Albanese, UN Special Rapporteur on the situation on human rights in the Palestinian Territory occupied since 1967. It will be followed by a Panel Discussion with Amb. Sven Koopmans, EU Special Representative for the Middle East Peace Process and Mr Marc Gerritsen, Director General of the Middle East and North Africa at the Dutch Ministry of Foreign Affairs.
We'll also have panels on different issues pertaining to EU-Middle East Relations, Academic Freedom in the neoliberal university, EU-Turkey relations and reflecting on the future of EU-Middle East Relations. You can find the detailed programme here.
 Attendance is free but registration is required for logistical purposes.
Please confirm your participation by sending an email to: d.delpiano@uva.nl.
---